Country:

Russia

Capital

Moscow

Language

Russian

Currency

Russian ruble

Population

146 519 759

12/5000 Area

17 098 246 km2
Syberia to ponad 12 mil km2
It expands from Ural to the steppes of Mongolia and Kazakhstan. And of course, like in such a large area, big fish are not everywhere. And there are even places where they do not exist at all.
What is the truth about fish in Siberia?
Most of my life I spent on trips through Siberia and I know that not all the waters of Siberia are full of fish. There are many reservoirs, eg. salt lakes on steppes, where there are naturally no fish at all.
Czytaj więcej
Poaching also has bad influence in areas more easily accessible and within cities. But you can still find beautiful wild areas, but even for them the business and economy of Russia did not have mercy. Examples are the Volga River, the famous Baikal and the Aral Lake in Kazakhstan, where you cannot count on a great trophy. There are many places like this in Siberia!The principle of choosing the right fishery in Siberia is the same as everywhere in the world:. "you need to know where to go".
And we know this, thanks to the tens of thousands of kilometers driven across the Siberia. This experience allows us to reach these best places.
I am convinced that the places we visit during our expeditions are unique. Vladimir Putin is fishing on the same river as we are going to. Siergei Shojgu, the present Russian Defence Minister, with whom Putin spends his free time here, also comes from these areas. That is probably why this is the only place in Russia where there are no railways and no roads until nowadays.
The Republic of Tuva and one of the world's largest rivers named Yenisei (the 7th position)
I admit that it is not easy to get there. But…. it is worth it. Simply it is.
Fishing in this area is still an unique offer.
Why Tuva and Yenisei?
There is no doubt that it is an unique area. And while this can be said of many places on Earth, when we talk about truly wild and vast areas, Siberian Tuva is (unfortunately) a worldwide phenomenon.
And this is one of the main reasons for our fishing expeditions. Of course, the wilderness of lands is not all, but their diversity is also important. During one expedition we fish in the mountains, on the steppes and in taiga.
Yenisei offers everything angler needs. And even more!
It is a river with a 5500 km long waterway!
It is a real water labyrinth. Yenisei is like a braid entangled in other rivers. It surprises with every kilometre, cause its full of depths and shallows, rocks and steppe, waterfalls and quiet bays. It is a river for every angler.
Spinnergists and fans of fly fishing will be like in paradise fishing for grayling, lenoks or taimen – the king of Siberian waters.
Float or ground angling enthusiasts have ideal conditions to fish for taimen, sturgeon or burbot.
Yenisei gives everyone a chance – even amateurs who are amateurs no more after they return to Europe from such river.
Our fishing expeditions are divided into 3 different stages, matched to the needs of anglers. So that each of you can choose and perform your favourite fishing method and calmly hunt the desired species of fish.
Read our expedition plan and you will certainly find something for you;)
Did you know:
Russia is the largest country in the world.
Siberia accounts for more than 25% of all the world's forests.
Russia is one of the world's largest economies, ranked at 6th position in terms of GDP.
The Trans-Siberian Railway is the longest railway line in the world with 8 time zones. The length of the tracks is 9288 km.
McDonald's is one of the few alcohol-free zones in Russia.
65% of Russia's area is a permafrost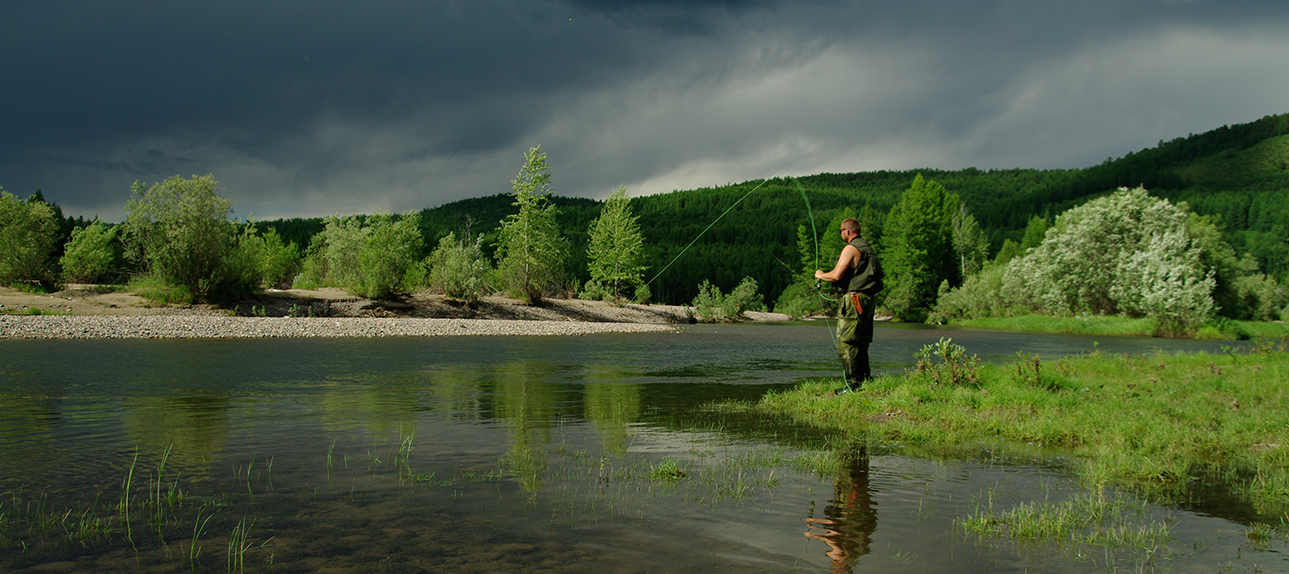 Fishing expedition plan / 14 days (10 days of fishing)